For some odd reason I'm really into sweets, pastry, candy...geez, here are some recipes I find quite appealing. I'm going to try to make something,Hmmm lets see what happens.
Crystal Flower Cupcakes
You will need:
Choose Favorite cupcakes recipe
Royal Icing recipe
Sugar Paste Icing
Crystal Edible Flowers
Food coloring
Colored sugar
Candy dots
White non-pariels
Circle cookie cutter
1. Color the Royal Icing with food coloring. Frost the cupcakes with this icing.
2. Divide the Sugar Paste Icing into two bowls. Color each batch a color that will match the Crystal Edible Flowers.
3. Prepare basket weave with the Sugar Paste Icing. Place it on the cupcake.
4. Pipe the edges of the basket weave with Royal Icing.
5. Prepare crystal edible flowers. Use frosting as glue to attach Crystal Edible Flowers to the cupcakes.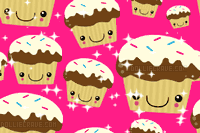 But this may happen!!!!!!!!!!!!